Shannon's Stained Glassery class schedule


Below our featured classes is the full schedule of what we offer. Can't find the class you want to take? Let us know and we will try to get it on the next one. Don't want to wait? Get some friends together and set up a private class...lots of fun!!
Want to take our Beginning Stained Glass class? Each 4 week session starts the first Tuesday of every month at either 12:00pm or 5:30.



Spring OPen House and art show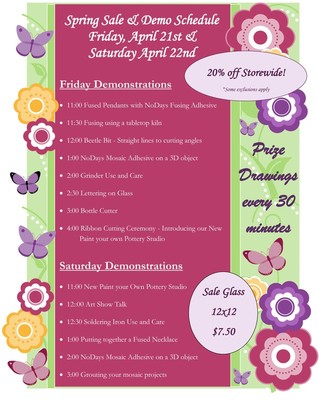 Friday, April 21 10:00am—5:30pm
Saturday, April 22 10:00am—4:00pm
This is a huge sale event with sale glass and storewide savings. Every April we celebrate Art Glass Month with a spectacular sale event. This event is also an Art Show. We encourage everyone to enter your glass projects that will be on display here at the shop. You may enter copper foil, lead came, beveled, dimensional, lamps, mosaics, garden stones, fused glass, lampworked beads, glass jewelry and anything else we may have missed glass related. Art Show entries are due the week of April 11th – 15th. Everyone that enters will receive a great prize package. Please have your entries ready to hang or display. Enter as many projects as you would like.
Mark your calendars for the Spring Open House and Art Show, Friday April 21th and Saturday April 22th.
---
05-04-17 Copper Overlay ​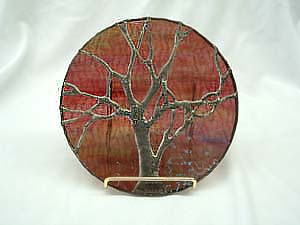 Wednesday 5:30 - 8:00pm
Looking for another way to add pizzaz to your stained glass? Applying soldered copper on top of glass is a contemporary way to create artwork and the results are phenomenal. There are several patterns to choose from. Class is 1 day, fee is $40 which includes materials. Beginners are welcome.
Price:$40.00
---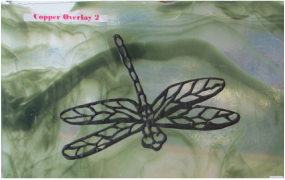 05-13-17 Copper Overlay 2
Saturday 10:00am - 3:00pm
Take your copper overlay technique to the next level by making it feel like it is "fused" to Head Glass. Learn the secrets for direct application in this intermediate one day class. Class fee is $25 and materials are extra. There are 3 patterns to choose from. Pre-requisite; Copper Overlay 1.
Price:$25.00





---
Walk in Wednesday!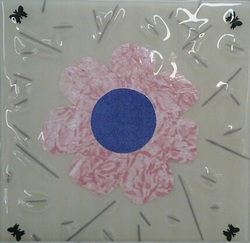 Ever get the itch to do a project but don't like to plan? Then Walk in Wednesday is for you! Every week we will have a 'Featured Project' but you are welcome to work on any fusing project from our cookbook.




---