Shannon's Stained Glassery class schedule


Below our featured classes is the full schedule of what we offer. Can't find the class you want to take? Let us know and we will try to get it on the next one. Don't want to wait? Get some friends together and set up a private class...lots of fun!!
Want to take our Beginning Stained Glass class? Each 4 week session starts the first Tuesday of every month at either 12:00pm or 5:30.


04-14-18 Mosaic FLower Pot
Saturday 11:00am - 2:00pm
Learn to mosaic a 3-D surface using the direct method of mosaic. Feel free to bring found items such as stones, cermaics, and any other small treasures to add on your flower pot. Class is 1 week and the $40 fee includes materials. Premium glass is available for purchase. Beginners are welcome.
Price:$40.00

05-09-18 Garden Totem
Wednesday 5:30 - 8:00 (2 weeks)
Use your glass scraps to bring color to your garden by creating this glass & copper garden totem. Day 1 you will bring your scrap glass to class, we will plan your piece & foil the glass. Day 2 you will assemble a dimensional 3' garden stake. This colorful totem would look great in anyone's yard. Class is 2 days and the class fee is $50 which includes your copper pipe.
Price:$50.00

---
05-17-18 Etching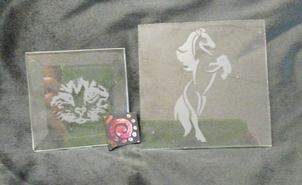 Thursday 5:00 pm - 7 pm
Chemical etching is a great way to add detail to your stained glass AND fused glass projects. This class will teach you to etch in 3 different ways. You will be etching a bevel using a pre made stencil, creating your own stencil to add a design to a piece of glass, and using an etching resist to detail dichroic for fusing. Class is 1 day. Fee of $25 includes all materials and kiln firing. Beginners are welcome.
Price: $25.00
---
05-19-18 Stained Glass Orientation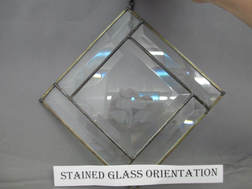 05-19-18 Stained Glass Orientation
Saturday 11:00am - 1:00 pm
Interested in Stained Glass but afraid to make the investment in tools and lessons until you are sure it is the hobby for you? In this 2 hour orientation workshop you will be introduced to some of the techniques that you will need to build your own small piece. Great group event; like Girls Night Out! All glass and tools are supplied. This workshop is $35, take it with a friend and you each pay $25. If you
would like your bevel etched come join the etching class on Thursday May 17th.
Price: $35.00

---
Walk in Wednesday!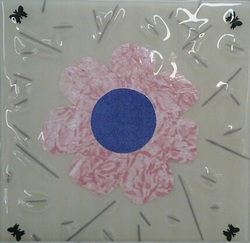 Ever get the itch to do a project but don't like to plan? Then Walk in Wednesday is for you! Every week we will have a 'Featured Project' but you are welcome to work on any fusing project from our cookbook.




---